DEPUTY PRIME MINISTER OF MALAYSIA SAYS;
"The opposition did not show any respect to their opponents. Is this the image of the party that wants to rule the country."
BUT THE REALITY ON THE GROUND IS DIFFERENT DPM SIR!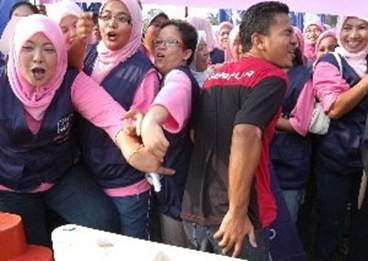 OH MY GOD - IS THIS OUR GOD FEARING, RELIGIOUS, SELF RIGHTEOUS, PURITY FILLED  TUDONG CLAD WOMEN INDULGING IN A VULGAR AND DESPICABLE ACT - OH MY MY - HEAVEN FORBID!
A PICTURE SPEAKS A THOUSAND WORDS!
I WONDER WHAT THEIR PARENTS WOULD SAY SEEING THESE PICTURES?
AND WHAT ABOUT THIS OTHER PICTURE ( ALREADY MAKING ITS ROUND ALL OVER THE WORLD - THE MASSES ARE LAUGHING AT MALAYSIA TRULY ASIA?) RIGHT IN FRONT OF A MALAYSIAN COP - CAN THESE TWO NOT BE CHARGED UNDER MALAYSIAN LAW FOR BEHAVING IN A LEWD AND OBSCENE MANNER IN A PUBLIC SPHERE - OR - IS THAT ONLY FOR THE OPPOSITION LEADERS AND SUPPORTERS?
WELL, MALAYSIANS...SHALL WE DO NOTHING, JUST SIT AROUND AND WAIT FOR SAIFUL'S CONSTIPATED ASSHOLE TO DETERMINE OUR FUTURE??
MALAYSIA AT 51 - WHERE ARE WE HEADING - A SAD SAD DAY IN THE ANNALS (OR ANALS) OF MALAYSIAN POLITICAL HISTORY